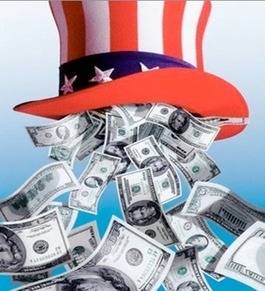 Today one of the legends in the business warned that for the first time banks are beginning to push what could be a staggering amount of reserves into the financial system. 50-year veteran Art Cashin, who is Director of Floor Operations at UBS ($650 billion under management), also warned the implications of this are "huge" because it will have a massive impact on major markets, Fed policy, inflation, and may possibly lead to hyperinflation.
By Art Cashin Director of Floor Operations at UBS
April 17 (King World News) - "On this day (+2) in 1536, there began one of those ventures that remind us cynics of the hope and promise that once was America. To hear today's citizens tell it, there's something in America that brings out a "dog eat dog", survival of the fittest attitude. When did all this happen??

Well, anyway back in 1536, America was new, pristine, an innocent wonderland. Columbus had found it just 44 years earlier. Cabot and Verrazano claimed to have seen wondrous shores teeming with lobster just a few years earlier. It would be nearly a century however until there were pilgrims, Henry Hudson, John Smith or Pocahontas.

But rumors of this new and glorious virgin land inspired curiosity - a kind of Jurassic Park of its day. And as Michael Eisner might say when folks are curious, or seek adventure and hope to see something new - there is money to be made. (Okay! Okay! Skip Euro Disney.)

So a man named Richard Hoar (or Hore) offered (for a fee) a fantastic cruise to this wondrous new land and back. He was an experienced sea-captain and also knew how to advertise. Soon, 25 well-to-do young men (and their servants) as well as a small group of the aspiring middle class signed on. Capt. Hoar rented two boats and with 120 adventurers sailed west. ...