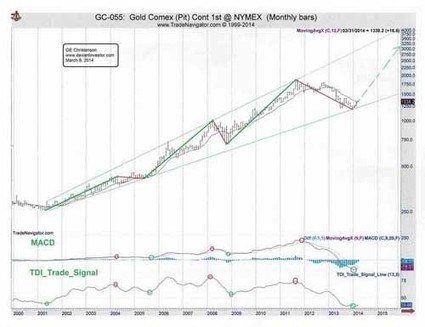 By: GE Christenson
Gold peaked in August of 2011 and fell erratically into December 2013.
Was that the end of the collapse, or is there more downside coming in gold prices?
Bearish Scenario: Listen to the banks who are forecasting weak prices in 2014 and thereafter."Nothing to see here folks, the dollar has weakened drastically since 1971, gold sells for 30 times its 1971 price, but it's all good. Just move on and pretend… Gold will drop below $1000 before you can say 2016 elections…"
I'm not a fan of:
The bearish gold scenario when decades of Federal Reserve "printing" and US government budget deficits have all but guaranteed continued destruction of the purchasing power of the dollar.
Belief that even though dollar debasement practices have accelerated since the 2008 crash, gold prices will fall because bankers say so. ...