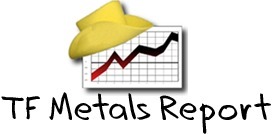 The aim of this piece is to expand upon the concept of 'price' and in particular the 'price of gold.' In the process of this expansion, various contemporary fallacies about price will be expanded
Snippet:
The current system
The current system of 'money' and payment is based purely on a form of debt. That, in and of itself, is an enormous blunder. Compounded with this debt having no relationship (enforced or otherwise) to the most marketable substance, i.e. fiat debt, the blunder turns into a catastrophe in waiting. The various states have convinced themselves into thinking that they can collectively achieve with the names for their various currencies – the euro, dollar, pound etc. – what ancient Rome could not achieve with their denarius. Such a philosophy will impoverish every single person on the planet at some point unless remedy is taken.
Because quotations in exchange are given against dollars or pounds etc. (the state names for their state currency) it is assumed that whatever is being exchanged is somehow legitimately 'priced.' Nothing could be further from the truth. As we established earlier, 'price,' only means a quotation against the most marketable good itself – not the state name which is meant to represent the most marketable good. ...