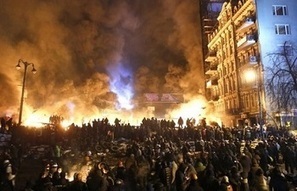 Scott Carter writes:
Is a new Cold War brewing? Some 16,000 troops have been deployed by the Russian Federation via ship, plane and helicopter into Crimea, which is a parliamentary Republic within Ukraine. Why did the Russians do this? They claim they were asked to enter the sovereign nation by ousted Ukrainian President Viktor Yanukovych to stabilize the region which has been experiencing months of public protests. The protesters have been calling for closer ties with the European Union. Russia asserts that Ukraine is on the brink of civil war, and that they have a right to protect their interests in the region.
US Ambassador Samantha Power says that Russia's claims are untrue and categorizes their military action as a clear violation of international law. Russia's deployment of troops has been strongly condemned by the United States, the EU, the G7 nations, and the UN Council.
The Kremlin's actions over the past few days have clearly angered the world and the West causing many to suggest that we may be entering a new "Cold War." After all, this is clearly the biggest crisis that the West has had with Moscow since the close of that chilly period of tension that ended more than twenty years ago. This new "Cold War" has the potential to significantly impact world trade and the global economy ...