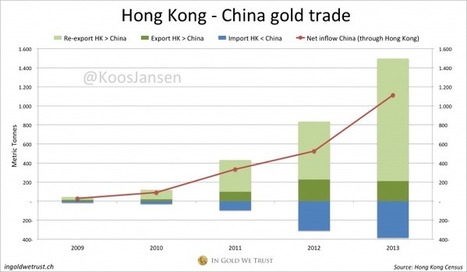 In 2013 the we've experienced what kind of extreme buying power China is able to unleash on the physical gold market. Chinese wholesale demand in 2013 was 2197 tons, this excluded PBOC purchases. While the mainstream media is still absolutely clueless on what actually happened and how much gold was distributed across the globe, the facts aren't that hard to summarize. Let's have a look at the facts, supplemented with commentary by yours truly.
As most countries disclose their gold trade numbers, by analyzing these numbers we could see a clear gold vein running from the vaults of the the Bank of England (BoE) in London to the 55 vaults of the Shanghai Gold Exchange (SGE) in China mainland. This main vein ran through Switzerland and Hong Kong.
The London Vaults
Most gold in the UK is located at the vaults of the BoE, where gold from the LBMA, GLD, the official reserves from the BoE and official reserves from many other central banks are stored. In response to the drop in the price of gold in April 2013 we have seen significant outflows from the UK; net export broke all records. ...