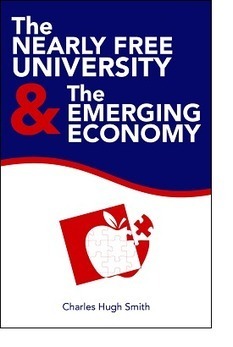 Instability starts on the periphery and moves into the core.

While it is clear that the instability in periphery nations is arising from dynamics unique to each nation, there is one unifying causal factor: the spoils system in each nation is breaking down.

Every nation-state, from brutal dictatorships to nominal democracies, ultimately depends on a spoils system that provides the various factions, classes, etc., with sufficient material and status benefits to accept the Status Quo arrangement.

The more a regime relies on oppression for its legitimacy (for example, North Korea or Saddam's Iraq), the greater its vulnerability to erosion in the spoils system, which naturally favor the military and the regime's Elites.

In broad brush, the spoils available for distribution are the surplus generated by the national economy. In the case of North Korea, this surplus stems from extortion (of donations from other nations), satrapy (free oil from China) and illicit activities (arms sales and counterfeiting). A common source of surplus is oil (Venezuela, Iraq, Iran) or some other desirable commodity. ...