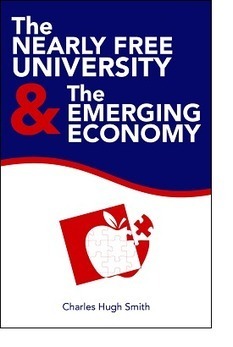 We as a nation are consuming our seed corn in great gulps, and there will be precious little left in a decade to pass down to the next generation.

Anecdotally, it seems a significant percentage of our recent economic "growth" is being funded by one-time cashouts of IRAs, 401Ks, sales of parents' homes, etc. This is the equivalent of eating our seed corn. Once these pools of savings/equity/capital are gone, they aren't coming back.

I personally know a number of people who have cashed out their retirement account 401Ks (and paid the taxes) to pay for their kids' college expenses--in effect, cashing out their retirement to lower but not eliminate the debt burden of their offspring who bought the "going away to college" experience.

The cashed-out 401K delighted the government, which reaped huge penalties and income taxes, as the cashout pushed the annual income of the recipient into a high tax bracket. ("Hardship" withdrawals for medical care and education waive the penalties, but the income tax takes a big chunk of the withdrawal.)

The middle-aged person who cashed out their retirement will not work long enough to save an equivalent nestegg. Not only is time against such an accumulation of retirement savings, so is the stagnant economy: companies are slashing 401K contributions to offset rising healthcare (a.k.a. sickcare) expenses, and many workers young and old alike are finding jobs that pay them as self-employed contractors or part-time jobs with no benefits. ...