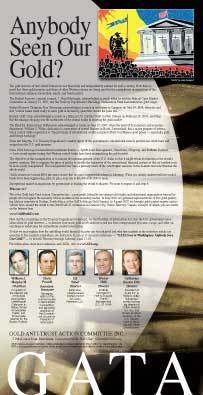 By Nicholas Larkin, Chanyaporn Chanjaroen, and Glenys Sim
Bloomberg News
Monday, January 27, 2014
http://www.bloomberg.com/news/2014-01-28/gold-flows-east-as-bars-recast-...
Gold's biggest slump in three decades has been a boon for MKS (Switzerland) SA's PAMP refinery near the Italian border in Castel San Pietro, whose bullion sales to China surged to a record as demand rose for coins, bars and jewelry.
As prices plunged 28 percent in 2013, investors dumped a record 869.1 metric tons from gold-backed funds traded mostly in the U.S. and Europe. Much of that metal is ending up in Asia, where companies such as The Brink's Co., UBS AG, and Deutsche Bank AG are opening new vaults. China's expanding wealth has made the country the world's largest buyer, surpassing India, as imports reached an all-time high.
PAMP Managing Director Mehdi Barkhordar, who credited China's "insatiable" appetite for a sales boost of as much as 20 percent last year, remains optimistic even as growth in the world's second-largest economy slows. "The demand in China is off its peak, but still respectable," he said last week. ...