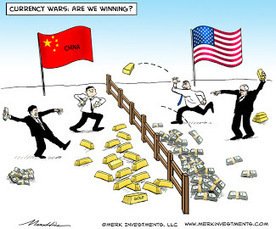 Earlier this week 30-day/4-wk T-Bills were auctioned off a 0% rate. Intra-day, after the auction, the rate went negative. Negative short term rates were last observed in 2008, before the Lehman/AIG/Goldman collapse occurred. Of course, Lehman was allowed to implode and Goldman, who's ex-CEO was the Treasury Secretary, was bailed out. AIG was the beneficiary of that bailout because Goldman had impaled itself on AIG nuclear waste.

The point here is that negative T-bill rates only occur when very big investors are concerned about the return OF their money and not the return on their money. Think about what a negative T-bill rate means. It means that someone is paying more for the T-bill than they get in return when it matures a few weeks later. Why would someone do that? It's the "safest" place to park large sums of cash.

A big institutional fund or very wealthy investor pays for a T-bill because they they see something which indicates that the risk of the Government defaulting in the next four weeks is less than the risk of parking that money in a bank or a money market fund. We're talking millions and tens of millions in short term money. Bank deposits are insured only up to a small amount. After 2008, it has been decided that money market funds will no longer be bailed out by the Government/Fed.

In other words, big big investors with cash that needs to be parked are seeing something that gives them concern about the financial system. The negative rates on T-bills means ...