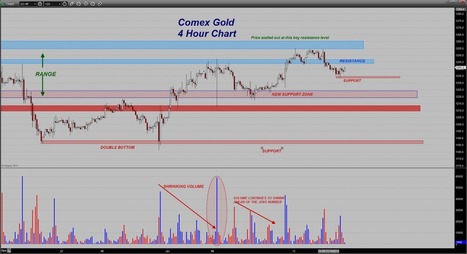 When you sit here with nothing better to do with your life than watch numbers blipping on a computer screen, sometimes you observe some things that stick out because they are out of line with what you have been accustomed to witnessing. Such was the case with gold, at least for today's session.

As expected, the market moved lower after failing to take out overhead resistance in the zone noted on the chart ( $1,255 - $1,260). It then fell through chart support near $1,240 - $1,244 as follow through selling pressured prices lower. Further aiding its fall was strength in the US Dollar as the market reacted to the BETTER than expected December retail sales data.

That was on the heels of comments that the market regarded as Hawkish from two Fed officials in regards to the Tapering campaign.

I figured we were going to see steady selling coming into the market for the remainder of the session, especially when interest rates started moving higher again but then we got the Crude Oil stocks number. The EIA released data this AM showing a whopping 7.7 MILLION BARREL decline in oil stockpiles when the market was expecting 800,000! Talk about a missed expectation! ....