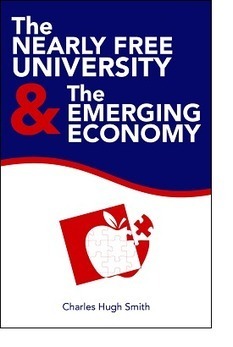 Janet Yellen's role as the nation's slumlord is masked by her apparent distance from the Fed's money spigot and the resulting institutional ownership of the nation's rental housing stock.

Please welcome the nation's new chief slumlord, Janet Yellen. The previous top slumlord, Ben Bernanke, has retired from the position of Chief Slumlord (i.e. chair of the Federal Reserve) to the accolades of those who benefited from his extraordinary transfer of wealth from the many to the few.

Why is the chairperson of the Fed the nation's top slumlord? Allow me to explain.We only need to understand two facts to understand the Fed's role as Slumlord.

1. Rental housing has long been a decentralized, locally owned industry. Over 90% of rental properties under 50 units have historically been owned by individuals or couples: the nation's landlords have historically been Mom and Pop, middle-class folks who saved capital and used those savings to buy a single-family home or small apartment building (duplex, triplex, four-plex) as an investment that they own and manage. ...