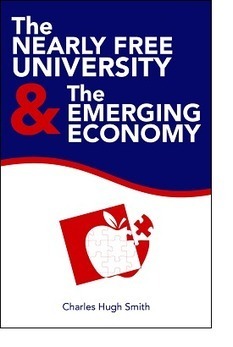 Austerity and crisis are not negative--they are the only dynamics that force smart thinking and the re-alignment of values, resources and strategic goals.

Unsurprisingly, the status quo position on austerity (real or imagined)--that it's terribly, horribly negative--is precisely backwards: austerity is the one essential positive motivator of productive strategic planning, prioritization and decision-making.

By austerity, I mean a broad-based definition: when resources are not up to the demands of the status quo. In other words, austerity is a relative term; for the household accustomed to a lifestyle that requires $15,000 a month, a cut to $10,000 a month is a drastic austerity budget, even though the $10,000 per month budget is insanely bloated to those managing on $3,000 per month.

The dynamic of austerity being required to force productive planning, prioritization and decision-making is scale-invariant: that is, it applies to every bit of the spectrum, from individuals to couples to households to small enterprises to communities to corporations to government agencies to nation-states.

For a military machine accustomed to expanding outlays and a $700+ billion annual budget, a cut of $50 billion is viewed as extreme austerity--even though it wasn't that long ago that the Pentagon budget was well under $500 billion. ...