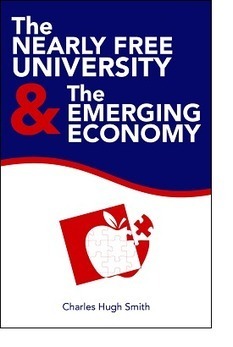 Neofeudal financialization and unproductive State/corporate vested interests have bled the middle class dry, yet we accept the officially sanctioned narratives. Why?

Let's cut to the chase and generalize "what's fake": everything that is officially sanctioned: narratives, policies, statistics, you name it--all fake-- massaged, packaged, gamed or manipulated to serve the interests of the ruling Elites.

Anything that might introduce a shadow of skepticism or doubt about the sustainability, fairness and transparency of the status quo (i.e. anything authentic and genuine) is recast or repackaged into a fake that can be substituted for the authentic when everyone's gaze is distracted by the latest fad/media sensation/scandal.

ObamaCare: fake, a simulacrum of insurance and healthcare.

The National Security State: fake, a cover for global Empire.

The Patriot Act: Orwellian cover for state-corporate fascism.

Student loans: parasitic, exploitive loan-sharking enforced by the Central State for often worthless "higher education." ...