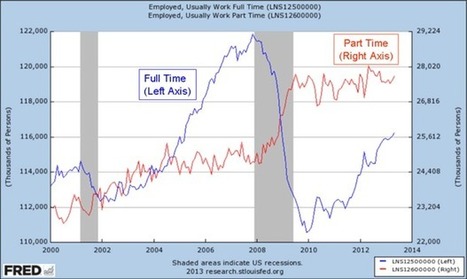 Much has been made of the 203 thousand jobs that were added in the November employment report in the US. It was the second month in a row for 200 thousand plus jobs created. As well, the unemployment rate unexpectedly fell to 7% from 7.3%. This occurred despite the participation rate actually rising from 62.8% to 63%. This immediately brought out "taper" talk for the December FOMC that is on next week December 17-18.
Despite all of the excitement there has generally been little to get excited about. The underlying statistics continue to suggest that the job market is not really improving to the extent that desired. No doubt the members of the FOMC realize that despite their misgivings about the ongoing wisdom of continuing with the current QE program of $85 billion a month.
The reality is that the current QE program is not doing that much good because the banks are not to any great extent lending the money out. Instead as pointed out ...