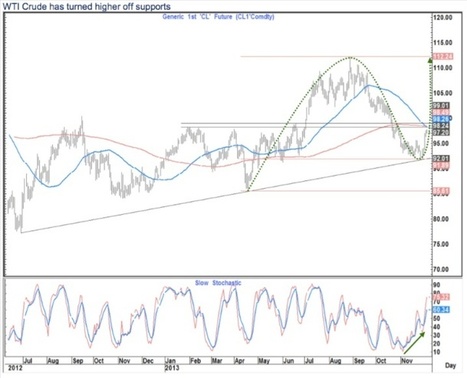 On the heels of continued downside pressure in the gold and silver markets, today top Citi analyst Tom Fitzpatrick spoke with King World News about what may cause a quick $200 surge higher in the price of gold. Fitzpatrick also sent King World News two fantastic charts. Below is what Fitzpatrick had to say both of his key charts.
Eric King: "Tom, can you talk about what your bullish view on oil will mean for gold?"
Fitzpatrick: "When you look at oil, Eric, as you well know it's something that is the main part of the commodity complex. So if we do see a push higher developing in oil, which we suspect there will be, and we're particularly looking at WTI (West Texas Intermediate) which is outperforming Brent at the moment, then there is going to be a feedback loop in terms of seeing that filter into other commodities....