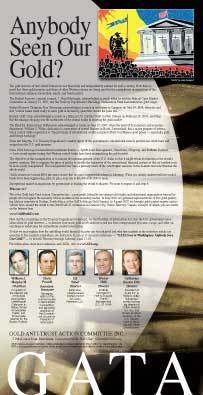 Dear Friend of GATA and Gold:
Who says gold isn't still money?
The photos and text at the link below appear to show one of China's fabled gold "aunties" using gold bars to purchase a new Bentley sedan at this month's auto show in Nanchang:
http://bbs1.people.com.cn/post/26/1/2/135276194.html
Your secretary/treasurer went grocery shopping this evening and while the U.S. government insists that there's no inflation, at the deli counter it seemed that gold bars are already needed to purchase the makings of a mere ham sandwich.
CHRIS POWELL, Secretary/Treasurer
Gold Anti-Trust Action Committee Inc.