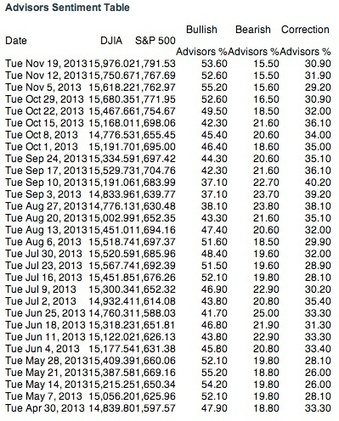 There is reason to be concerned even with global stock markets on a tear recently. There is a stunning chart and table featured below which all KWN readers around the world need to see.
If you look at the chart and table below it reveals there are some serious warning signals even as many major indexes have been hitting new highs.

Here is the latest Investors Intelligence report along with the all-important sentiment chart and table: "The latest market strength caused renewed bullishness for a few advisors that had shifted to correction. Readings continue to show the high levels of optimism signaling near fully invested stances that often occurs with market tops. It doesn't mean an immediate sell off but the strong likelihood of lower market levels in two-to-three months' time.

After a small gain the bulls were 53.6%, up from 52.6% a week ago and near the 55.2% high shown before that. That latter reading was in danger territory above 55% but the last four weeks ...