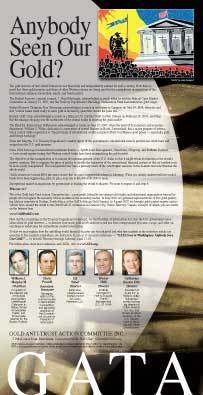 8a ET Monday, November 18, 2013
Dear Friend of GATA and Gold:
Over the weekend a money manager who is a friend of GATA questioned your secretary/treasurer's comment last week to King World News that, despite the public acrimony between the governments of the United States and China, the Federal Reserve and People's Bank of China are probably consulting every day to manage the gold market jointly:
http://kingworldnews.com/kingworldnews/KWN_DailyWeb/Entries/2013/11/14_A...
This observation was drawn only from inference, not from any authoritative information. But it seems to be a pretty good inference. For China is the gold market as well as the U.S. government bond market and any market China wants to be -- China's foreign exchange surplus is that huge. If China had not been at least complicit in the April smashdown of gold, it would not have occurred -- China would have bought the dip at a much higher level. So much for the "Chinese put" many gold investors thought they enjoyed. ...