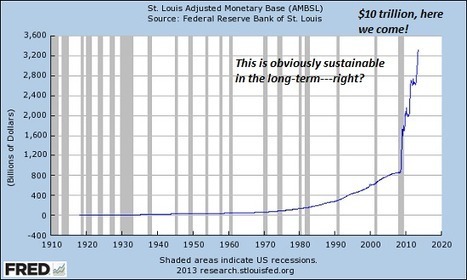 Would printing the cash to fund pensions for low-income retirees trigger inflation? It's more of an open question than we might imagine at first glance.

Correspondent D.L.J. recently suggested an alternative way of looking at Social Security--and our entire scheme of central bank-created money. Let's start by noting that the U.S. Treasury does not create new money (commonly known as printing money) to fund the Federal government's deficit spending--it borrows the money by selling Treasury bonds on the global bond market.

The Federal Reserve has the right to create money out of thin air: it digitally creates money which it uses to buy Treasury bonds, mortgages, etc. The new cash ends up in the hands of whomever sold the Fed the bonds and mortgages--usually primary dealers, Wall Street banks, etc.

The Fed also creates credit out of thin by loaning immense sums or establishing lines of credit for "too big to fail" banks and equally insolvent foreign banks. During the 2008-09 global financial crisis, the Fed extended $16 trillion in credit to global banks. That ...