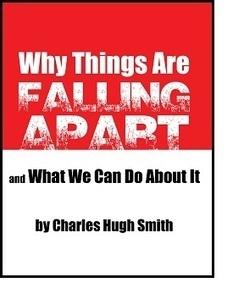 All financial schemes for retirement are misdirections of the real challenge, which is creating enough real-world surplus to support 75 million retirees.

I received a number of interesting comments on my recent series on the insolvency of the Social Security Ponzi Scheme:

The Generational Injustice of Social (in)Security (November 6, 2013)

The Problem with Pay-As-You-Go Social Programs: They're Ponzi Schemes (November 5, 2013)

There are two questions here:

1. How can we sustainably pay for 75 million beneficiaries in 2020?

2. Are there sufficient resources, labor and capital to support 75 million beneficiaries in the manner that they were promised?

The first question presumes there are limits on the creation of 'free money," and the second presumes there are limits on the surplus generated by the economy that can be devoted to supporting retirees.

As a quick primer on Social Security: the program, paid by payroll taxes on earned income, has two funds: one for worker/retirees and survivors of workers, and another for disabled workers and their dependents. ...