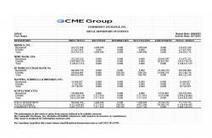 This latest move is so brazen in its audacity, even I am stunned. But, since no one else is talking about it, maybe I'm just crazy. Let me lay it out for you and you can decide for yourself.
OK, before we get started, we'd better go back and cover the basics.
The Comex is a futures exchange that does, occasionally, make physical deliveries. To provide for these deliveries, five banks maintain depository vaults in New York. Updates on the daily changes to the amount of metal in these vaults is provided by The CME Group ...