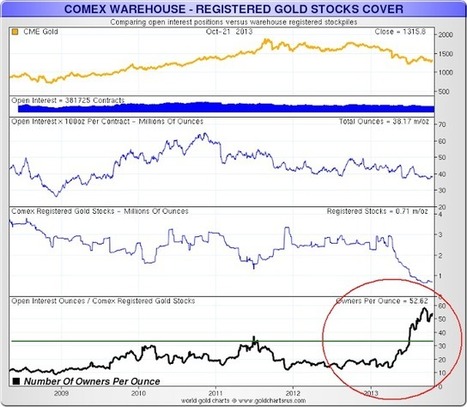 Here are three charts that capture the somewhat uniquely dangerous situation in the gold futures market on the Comex.

The first chart shows all gold in storage at Comex certified private warehouses. The major bullion banks control the vast majority of this storage. Among these are JPM, HSBC, Scotia Mocatta. Storage and delivery services are also provided by Brinks and Manfra, Tordella, and Brookes, a large NYC coin and bar dealer.

The year long decline in open interest on the Comex is a phenomenon worth noting. It is marked on the third chart. Even as gold bullion purchasing is soaring, gold futures interest in the US is in a secular decline. But even with this decline, the 'claims' of ownership as represented by futures contracts over ALL gold in the warehouses is ...