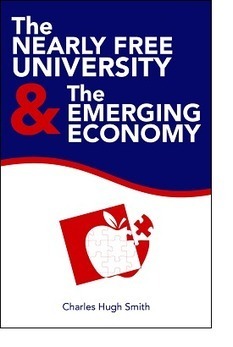 Longtime correspondent E.S. submits an insider's perspective of student loan debt-serfdom.

In my analysis, the self-reinforcing dynamics of neocolonial and neofeudal financialization are the key forces of debt-serfdom. The most blatant example of neofeudal debt-serfdom is the vast student loan industry which has burdened college students with over $1 trillion in debt that cannot be discharged by conventional legal means--for example, bankruptcy.

Recently, enforcing this debt-serfdom exploitation has been offloaded onto the Federal government, which now holds roughly 2/3 of the total debt ($674 billion).This is of course the core of the neocolonial financialization model--the state enforces what is essentially a for-profit exploitation of debt-serfdom.

A number of correspondents have observed that there are a few ways to reduce the burdens of student loan debt-serfdom, but these are not that easy to pursue. One is to pay the minimum long enough to qualify for some dispensations, and another is to act as one's own attorney and wind your way through multiple layers of legal maneuvering through bankruptcy. The few who have succeeded at ...