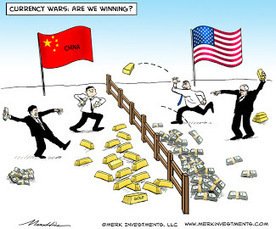 The information in this report is taken from sources believed to be reliable; however, the Commodity Exchange, Inc. disclaims all liability whatsoever with regard to its accuracy or completeness. This report is produced for information purposes only.
The above legal disclaimer mysteriously, and with no explanation, showed up one day on the Comex gold and silver warehouse stock reports about 8 months ago (roughly). After several years of publishing the warehouse stock reports, why all of a sudden did the CME feel compelled to stick this disclaimer specifically on the gold and silver warehouse reports?

I bring this up because I was having a discussion with a couple of long-time colleagues about the unprecedented level of manipulation of gold and silver that is occurring specifically on the Comex and primarily during Comex trading hours. Today's activity is a perfect example. And the behavior of the price action in the paper Comex market completely defies the unprecedented amount of physical gold being bought for accumulation by Asia, Russia and the Middle East. In fact, India and China together are on track to inhale more gold in 2013 than is currently being produced by every single gold mine globally this year.

The nature of the discussion had to with the fact that, according to the CFTC Commitment of Traders report (COT), the four biggest gold futures traders on the Comex are, and have been, net long a record amount of gold contracts. In an ordinary, unmanipulated and uncorrupted system, that positioning stance would be extraordinarily bullish.

But my view is that the data being reported by the CME/Comex and the CFTC is not to be trusted ...