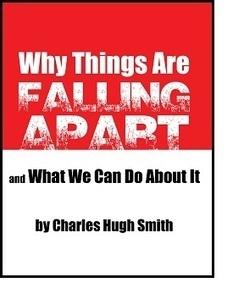 Voting for incumbents is like not voting at all: either way, you're throwing away your vote.

Here is the politicos' government shutdown game in a nutshell: inflict maximum pain on the rest of us to score cheap points with partisans.

The amount of money needed to keep the National Parks open is such a tiny slice of the Federal budget that it doesn't even register. Planned a trip of a lifetime to a National Park? Sorry, buddy--the whole game is making life as miserable as possible so we will be driven to partisan cheering for one side or the other.

Need a passport or a work permit? Tough luck, bucko. The sums of money needed to keep essential offices open is trivial, but that's the game plan for both parties: make the cuts that hurt the most with the least political exposure to blowback.

Please recall that every politico in Washington D.C. has known when the budget and debt ceiling would reach criticality. Yet they did nothing. We all know the two-party system of governance is broken, and that both parties are equally responsible. Yet what do we do? We continue to elect the incumbents who failed to change the political culture.

Please remember this absurd political theater in 2014 and 2016 and vote for third party and independent candidates. I have to laugh when people object, "But voting for third parties is throwing away your vote."

No, voting for Demopublican/Republicrat incumbents is throwing away your vote ...