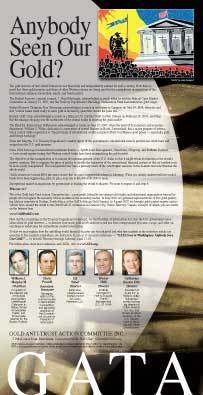 Tuesday, September 10, saw the final ruling of the Board of Industry Appeals (College van Beroep voor het Bedrijfsleven) on the gold case brought by the Dutch pension fund Vereenigde Glasfabrieken against De Nederlandse Bank (DNB, the Dutch central bank) in 2011. The pension fund objected to an earlier directive of DNB.
This ruling is in favor of the pension fund, because the judges of this college, following an earlier decision in March 2012, not only ruled that a fund may decide how to implement its investment policy, but also ruled that DNB failed to underpin its concerns as expressed in the directive imposed [onto the pension fund].
By contrast, the underpinning of the pension fund was so clear that the judges fully agreed. They agreed with the pension fund that there may be circumstances that justify deviation from ordinary investment policies. Such circumstances included the financial crisis that began in 2008 and the euro crisis that was an extension of this financial crisis. ...