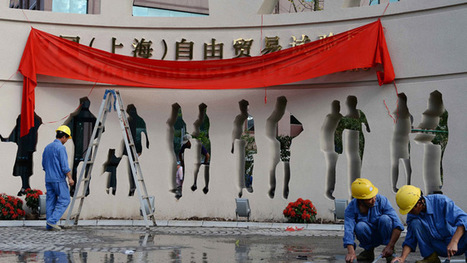 China launched its first experimental economic free trade zone in Shanghai, seeking to transform the city into an international financial hub and drive yuan convertibility. It is intended to boost growth which is now heading for a 23-year low.
The Shanghai Pilot Free Trade Zone (FTZ) is an 11 square-mile district that overlaps four existing special trade zones in the Pudong district. It is hoped foreign firms will set up their Asian headquarters in the city and promote trade and encourage foreign investment across 18 service industry sectors.
Citigroup, Singapore-based DBS and Bank of China are among some of the financial instructions which will operate in the zone, and serve as liaison for international investors to gain more access to domestic financial markets. Local state media reported 25 Chinese and foreign companies have been awarded registration licenses.
At an opening ceremony, Commerce Minister Gao Hucheng said the new special economic zone would exist as "an experimental field to conduct economic reform."
One of the key economic reforms will be the free convertibility of the yuan, the tightly controlled currency which experts believe will be 'released' into the global economy and traded openly like most other power currencies within 5 years. ...