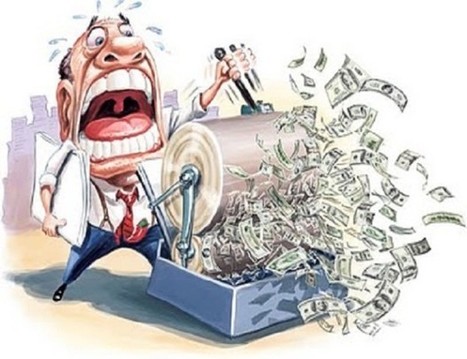 "Quantitative easing", or "QE", when you boil it down, is simply the process of printing money and then lending it to the government at zero interest. It's just the same as if the central bank printed up fistfuls of notes and then send them over to the finance ministry to be spent on buying votes…er, sorry…I meant on "essential investment".
But because the cash is routed through the bond markets it creates artificial demand for bonds, which drives up prices and reduces yields. In bankrupt countries that are overloaded with debt (a.k.a. "developed countries"), the idea is that this will stimulate the economy by keeping interest costs down. This market manipulation has a knock on effect on all kinds of lending, from corporate loans, to mortgages, to credit cards.
If that sounds too good to be true as a way to get out of debtors jail, then that's because it is. As an example, take a look at this chart which I put together using official data. It shows the percentage of UK gilts (the local name for UK government bonds) owned by different types of investors at each quarter end, going back to second quarter 2003 and ending first quarter this year. ...