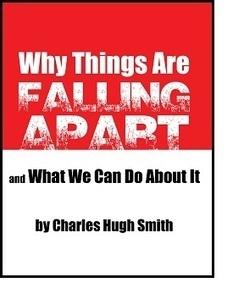 A brief summary of everything that's been fixed.

Much to the amazement of doom-and-gloomers, everything's been fixed and as a result, everything's great. The list is impressive: China: fixed. Japan: fixed. Europe: fixed. U.S. healthcare: fixed. Africa: fixed. Mideast: well, not fixed, but no worse than a month ago, and that qualifies as fixed.

Let's scroll through a brief summary of everything that's been fixed.

1. China's economy. It was slowing down, which would have been bad for the global economy. But the recent PMI (preliminary made-up indicator) readings have been the strongest since the Great Leap Forward.

The basic story here is China needs a million more of everything: a million more concrete highrises, a million more airports, a million more miles of highway, and so on. And because there are 200 million rural peasants anxious to open nail shops in all those empty ghost cities, there is no end to growth in China.

And thanks to central banking and a wide-open spigot of credit, there's also a million times more leverage and debt in China. It's a perpetual growth machine.

There are growth stories on top of growth stories in China. There are 300 million diabetics and pre-diabetics in China right now--the equivalent of the U.S. population. Think of all the growth possibilities for diabetes clinics ...