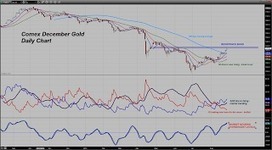 There are two news stories serving as catalysts for the move higher in gold in today session.

The first of these is talk that the US is planning on lobbing some cruise missiles into Syria in response to unsubstantiated reports that the Assad regime has used chemical weapons against civilians. The has the attention of not only the safe haven markets, (the Yen is also getting another one of those goofy safe haven bids) but also the crude oil market, which is soaring moving above $109 at one point in the session.

The second news item is that the US is up against that pesky debt ceiling once again. It never ceases to amaze me how damned inept these politicians are and how they cannot live within their means. ...