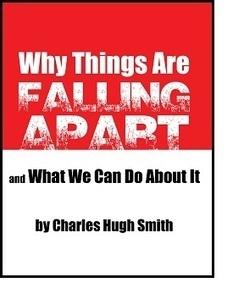 We are reaching hard limits in food production and financial engineering.
In the first 25 years after World War II (1946-1970), an abundance of cheap oil and plentiful opportunities (low-hanging fruit) for global development led to rapid urbanization and economic growth in much of the world. As oil became more expensive and the demands for more resources by an expanding middle class rose, limits on available resources became visible. These were explored in the famous Club of Rome report, Limits to Growth (original 1972 paperback); Limits to Growth: The 30-Year Update(2004).
For roughly forty years (since the report was published in 1972), technology has pulled one magic rabbit after another out of the hat, making a mockery of the claims that there were limits on consumption and resource extraction: the green revolution and fossil-fuel fertilizers expanded food production, new supergiant oil fields and improved drilling technologies opened up vast new energy reserves, and improved technologies led to more efficient use of resources.
The success of the past four decades in pushing back looming limits has created a widespread confidence that technology can solve any apparent limits. For example, if the seas have been stripped of fish, then aquaculture will fill the desire for fresh fish. Presto-magico.
But what if the technological improvements are entering a terminal phase of diminishing returns? What if the "solutions" don't really replace what has been destroyed? For example, the ecology of the ...