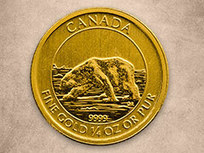 August Gold Promo
For every 15, $5 Gold Liberty Half Eagle MS63 coins, receive 1 FREE Gold Polar Bear Coin!
The $5 Liberty is an opportunity to own "the first gold coin ever minted by the US government." While the Gold Polar Bear reflects the beautiful design of a 2013 modern issue gold coin.
Prices and promotion subject to change without notice.