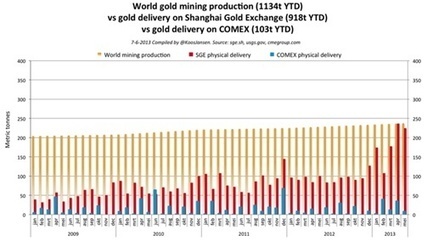 It's one of those things. You hear about it every day but never stop to really think about it.
This began as an email discussion with my friend, Ned, yesterday. All of us in Turdville are aware that the Shanghai Gold Exchange has physically delivered something like 1200 metric tonnes of gold, year to date. That's a staggering number and it far exceeds the amount delivered through London and dwarfs the level delivered through the Comex. Prior to yesterday, I looked at that number and thought, "Wow. That's a lot.", but I never stopped to ask the follow-up questions:
To whom is this being delivered? ANDOnce it's delivered, where does it go next?