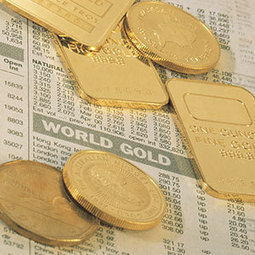 Investors have beaten down precious metals prices even as economic signals suggest they should be moving up soon. Is this a rare buying opportunity?
Something curious is happening in the precious metals market.
Fundamentally, there couldn't be a better time to own gold and silver. But technically, the shiny stuff has just been hammered, inexplicably suffering a 1987-style plunge last month. Did a hedge fund blow up? Are policymakers pushing on prices to keep inflation expectations down? Are computer trading algorithms causing problems? We just don't know.
Now the question for investors is: Has the best buying opportunity we've seen in decades arrived even as most of the market focuses solely on stocks, or is gold a lost cause?
In fact, if the crash continues, gold's role as an important market signal points to two economic possibilities that would take many people by surprise.
Here's where I see gold headed and why.
The basics favor gold
The core bullish argument in favor of nibbling on gold and silver at today's low prices lies in their value as an alternative store of purchasing power, given that currencies are being diluted at an unprecedented rate, financial markets are frothy and real-estate and farmland prices aren't exactly at rock-bottom levels. ...