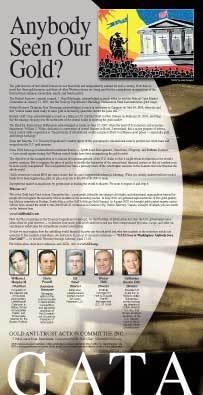 Government, RBI Are Again Getting It All Wrong on Gold
By Nidhi Nath Srinivas
The Times of India, Mumbia
Wednesday, May 15, 2013
The Indian consumer -- that's us -- is currently Public Enemy No. 1. We are apparently responsible for leaving the nation's balance sheet in a shambles with our insatiable lust for gold.
If the government and the Reserve Bank of India (RBI) had their way, anyone spotted buying gold would be flayed. Luckily, we are still not that sort of country.
But both are doing everything possible to punish us. We can't wear our own jewellery above Rs 1 lakh on an overseas holiday. We can't buy coins easily. The paperwork at a jewellery store is designed to turn away everyone except the most determined. The higher customs duty intends to make gold prohibitively expensive. ...