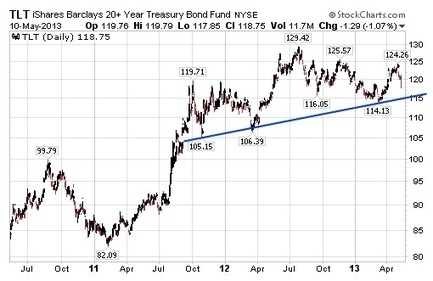 Richard Russell: "We are living in amazing times. These are times that have ushered in unprecedented events. For instance, did you know that the Dow has risen on 21 of the last 25 weeks? On top of that, borrowing (margin debt) is at a near-record high of $346 billion (the record was $381 billion in July, 2007). Never before has there been so little cash in money market funds relative to stocks and bonds. Last week the yield on Barclays US high yield index fell to a record low 4.97%, the first time it has ever fallen below 5%.

The whole situation can be described in one sentence -- the search for yield has reached almost insane levels. The question -- have investors driven certain assets to extremes in height, and have they placed various markets on dangerously thin ice? Are we looking at a collection of new Fed-created super-bubbles?

What's the Russell advice? My average subscriber is not a money manager. Therefore, my average subscriber's job does not depend on his producing income or even profits. My preference is to sit with cash and gold. True, the purchasing power of cash is going steadily down. This must be bothering the Fed. What's the Fed's response? Easy, just lie about the rate of inflation. Or change the CPI. Actually, according to yesterday's Financial Times, the Fed is considering tapering off on its monthly buying of $85 billion worth of bonds and mortgage-backed securities.

So again, I say, let's try to keep it simple. Our job is to ...