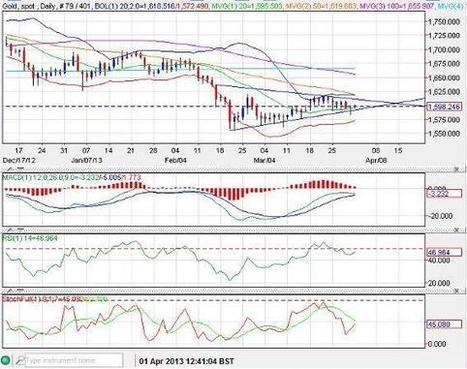 By Robert Jillies
Cyprus banks have re-opened for business after truckloads of Euros replenish the ATMs. There was no disorder or stampede of large crowd, but a rather orderly queue as they get on with their everyday lives. The media seems to have overplayed the severity of a possible unrest. Given how calm the queue is, gold lost some of its allure as safe haven. Asian stock market resumes higher, alongside with European and American stock market. Losses made yesterday reversed and the Dow industrial index and S & P 500 continue to rally and set sight for a new all-time high.

The strong US dollar index continues to impose restriction on higher gold prices. The index rose to as high as 83.39 and maintains a strong footing above 83.00. It is becoming more apparent that the inflow of money to US dollar index (as safe haven bids) but also on US equities is purely because of investor's perception. They perceive that only the US economy is on a path of recovery and it is the only place where a return on their investment can be made compared to Europe and Asia.

However, we do not think that this process is necessarily healthy or permanent. ...