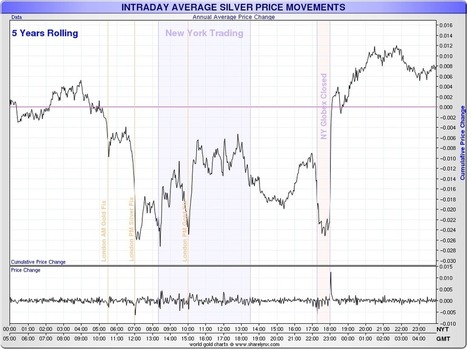 Ed Steer writes:

The big take away [from the civil lawsuit against JPMorgan] is that the filing of the civil case was unprecedented in that no government case preceded it. The main reason why this occurred was because the CFTC refuses to acknowledge the obvious, namely, that it is growing common knowledge that silver is manipulated in price by JPMorgan and the agency is in some sort of cahoots with JPM to allow the manipulation to continue. The ongoing CFTC silver investigation was initiated two years before the civil case was brought in November 2010. The civil case should have been patterned after the same issue of concentration that the CFTC still can't address, namely, how can a U.S. bank holding 30% of a market not be manipulative to the price? - Silver analyst Ted Butler...20 March 2013
With volume so low again yesterday, I wouldn't read too much into yesterday's price action, because as Ted Butler pointed out, the gold and silver markets are very illiquid...and it doesn't take much to move them when that's the case.
I thought I'd take this opportunity to stick in the five most important paragraphs from Bill Buckler's website...the-privateer.com. What he has to say was true back when he first wrote these words...and are equally true, if not more so, now...and he hasn't change a single word of it in almost fifteen years.
"In any discussion of the future of Gold, or of the price of Gold, the first thing that must be realized is that Gold is a political metal. In the true meaning of the word, its price is "governed".
"This is so for the very simple reason that Gold in its historical role as a currency is fundamentally incompatible with the modern worldwide financial system. ...