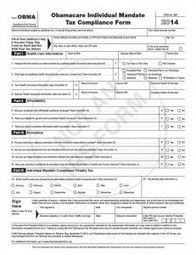 Obamacare Taxes: IRS "determining who to audit and who not to."
"It is unprecedented in recent history, the amount of responsibility the IRS is being given in an area that most people don't think of as an IRS function."
On Wednesday, March 5, Treasury Inspector General for Tax Administration J. Russell George tesified before the House Appropriations Committee. As part of his exchange with lawmakers, Mr. George was asked about the tax implications of Obamacare.
As reported by POLITICO's Rachael Bade:
"It is unprecedented in recent history, the amount of responsibility the IRS is being given in an area that most people don't think of as an IRS function," George said. Americans, he added, will have more questions about their taxes because of health care penalties or credits, flooding already busy call-in and walk-in tax help centers. "This is going to lead to problems, sir."
And these resource issues are bound to spill over into tax fraud enforcement, where the IRS will have to do a cost-benefit analysis when determining which tax fraudsters to chase.
"They have to determine what enforcement mechanisms they'll employ … how they go about determining who to audit and who not to," George said.
You might already know about the twenty new or higher taxes in Obamacare. What you might not know is that the non-partisan Government Accountability Office (GAO) says that the IRS has 47 new taxes and regulations to administer in overseeing Obamacare.
The IRS is not capable of doing all this, as the quotation above confirms. ...