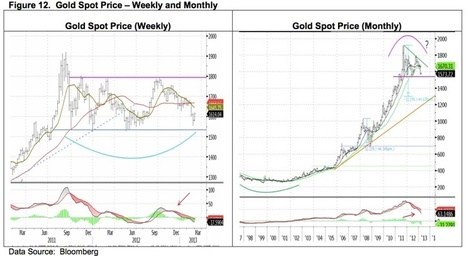 With continued volatility in the gold and silver markets, today King World News is pleased to share a piece of legendary technical analyst Louise Yamada's "Technical Perspectives" report. Yamada is without question one of the greatest technical analysts Wall Street has ever seen. This information is not available to the public and we are grateful to Louise for sharing her incredible work with KWN readers globally.

Please note the incredible charts Yamada has put together here. It is important to know that this is only a portion of her report on gold and silver, and a tiny fraction of her latest 48-page monthly report which provides incredible coverage of the global markets.
Metals: Gold & Silver
By Louise Yamada Technical Research Advisors, LLC ("LYA")
March 8 (King World News) - We've had quite a few concerned client calls on Gold recently. The Gold spot price (GOLDS- 1,576.23) declined as the weak technical profile discussed last month carried price down through 1,600 support to 1,564, which slightly breached the downward channel's lower boundary, depicted herein last month, before bouncing back. A kickback rally could carry up again toward 1,650-1,660, the upper channel boundary and the intersect with the 50- and 200-day MAs. The larger question is whether Gold can hold critical two-year support at 1,539 (1,522 intraday).