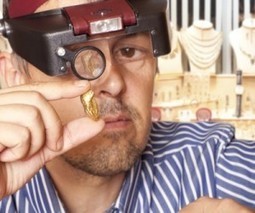 It protects itself by turning its environment into molecular-sized gold nuggets.
A group of scientists has identified a bacterium that turns toxic water-soluble gold into microscopic nuggets of the solid precious metal, reveals the paper published Monday in Nature Chemical Biology.
The finding solves a mystery that for decades has intrigued biochemists, which is why the Delftia acidovorans germ is frequently found on the surface of tiny gold nuggets.
Nathan Magarvey of McMaster University in Hamilton, Canada, and his team grew a colony of this microorganism, and conducted tests to determine how it produces the molecular-sized gold nuggets outside its cell wall. The group concluded the answer lies in a molecule excreted by the microbe that both shields the organism and transforms the poisonous ions into particles.
In other words, it protects itself by turning its environment to gold. ...