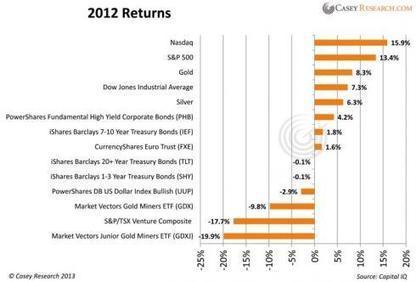 Is the bull market in gold running out of steam?
... So what does the gold price do in 2013?
I think that's the wrong question. Since gold is the best and longest-lasting way to store wealth ever adopted in history, and not technically an investment, the more accurate query is: will gold continue to protect my purchasing power?
Worded that way, we begin to see gold its proper light: real money. If we're holding gold as money, the question then becomes: how much is our purchasing power in dollars or other alternatives to gold likely to decrease this year? And in future years?
If there's one thing we're certain of, it's that the current path of debt accumulation, deficit spending, and money printing will continue to devalue dollars and other unbacked currencies – and probably at an accelerating speed in the not-too-distant future. That makes gold a must-own asset despite its 500+% advance since 2001 ...