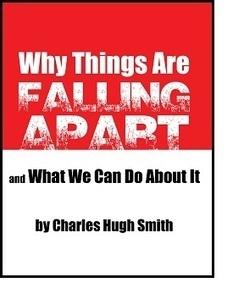 The Keynesian model is a Cargo Cult, mired in a distant, romanticized past where Central Planning, intervention and manipulation were solutions rather than the root of the economy's fatal disease.
If we want to trace today's policy failures back to the source, we find ourselves at Richard Nixon's famous statement that "We are all Keynesians now." The fundamental Keynesian project is that the Central State and Central Bank should manage market forces whenever the market turns down.
In other words, the market only "works" when everything is expanding: credit, profits, GDP and employment. Once any of those turn down, the State and Central Bank "should" intervene to force the market back into "growth."
The Keynesian has two basic tools: the State can borrow and spend money (fiscal stimulus) and the Central Bank can create money and "inject" it into the economy (monetary stimulus): quantitative easing, lowering interest rates, extending unlimited credit to broker/dealer investment banks and financial institutions, etc. ...