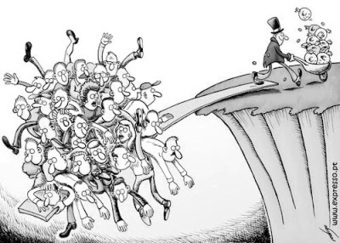 "Mark Melin has been doing an excellent job of covering the MF Global scandal and cover up. With a few notable exceptions like Forbes, the mainstream media has been silently complicit. Investigative journalism is far less safely profitable than staged debates amongst commercially endorsed opinionators. The news gives way to spectacle.
"This is an excellent example of the credibility trap. That blatant theft occurred and no indictments and prosecutions have resulted seems so unbelievable that most tend to ignore it. You don't understand, it takes time, it takes time. Yes, to cover things up, to kick the can down the road, and hope that the people lose interest.
"And yet this is just one instance of the distortions that are plaguing the global commodity and financial assets markets. The long delayed investigation into the silver market is most likely another.
"The most urgent problem facing the US and the Western nations is not a 'fiscal cliff.' It is the pernicious corruption in the financial system that has captured the politicians of both parties, and distorted the public conversation through influence in the media and directing the opinions and buying the research of 'experts' through the power of big money. The people are held hostage in a Bastille of deceit. ..."