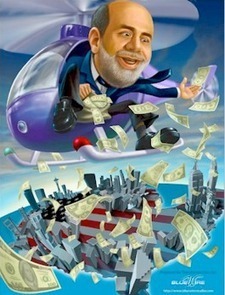 Rick Rule tells King World News:
"Given, from my point of view, the job of government is to redistribute, lie, steal and cheat, it seems to me that the likely method they will choose, the method that has the greatest yield to politicians, will be to inflate away the obligation over time.
"One of the things that's happening is it's beginning to dawn on people that Bernanke's recent and very incredible statement that he will do whatever it takes, has at once strengthened gold, but also strengthened everything else.
"He basically said that he would keep the system liquid for as long as it takes. A rising tide of liquidity then floated all ships. It is still my supposition that what comes out ahead of the rising tide of liquidity will be, especially, (gold & silver) bullion.
"I don't see any way out of the incredible increase in the supply of currency units ..."