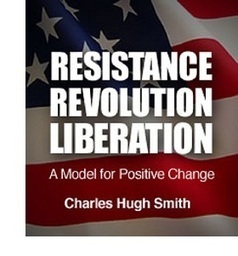 Charles Hugh Smith writes:
"We need a new stock market exchange that is a transparent, retail-trader friendly alternative to the manipulated HFT-dominated pseudo-market we now put up with.
"As I noted in The Stock Market Is an "Attractive Nuisance" and Should Be Closed, the stock market now bears little resemblance to traditional markets. Today's market has as much in common with the market of the 1960s as a horse-drawn carriage has with a Formula 1 race car. Most of the trading on the market is done by computers that hold shares for perhaps 11 seconds before skimming a slice from investors who lack the high-speed data flows from the exchanges, warp-speed processing power and sophisticated algorithms.
"Can the current pseudo-market be restored to a true open market? To explore this question I contacted financial reporter Scott Patterson, author of the new must-read book Dark Pools: High-Speed Traders, A.I. Bandits, and the Threat to the Global Financial System (print) (Kindle).
"CHS: Your book poses this question: what can we do to restore the integrity of our stock markets? ..."