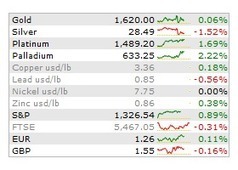 by Shivom Seth:
"... Gold prices in India have been perched at lofty levels due to the continuous weakness in the rupee, which has been trading close to its historical low against the dollar recently. The rupee, which weakened on Thursday to trade at 55.81 to the dollar, plays an important role in determining the landed cost of the dollar quoted yellow metal.
"At the start of June, the rupee touched a record low of 56.51. Though the rupee's historic low against the US dollar has sent domestic gold prices higher, Indian investors appear to have shifted to e-gold or gold ETFs to ride out the bump.
Gold ETFs
"For some time now, we are noticing investors shying away from equities due to their lacklustre performance. The high gold price is also ensuring that most people tend to go slow on gold investment. This is not true for gold ETFs though, which have seen a marked rise in activity,'' said Paritosh Gupta, bullion dealer.
"Over the past five years, and when compared to equity, gold has delivered 27.19% annualised return. Equities on the other hand, has delivered an annualised return of just 2.67% over the same period, said Gupta.

"Investors continue to buy the metal as a safe haven and to diversify away from equities. Assets under management of gold funds in India were $1.83 billion (Rs 102.18 billion) in April 2012. The assets held under India's gold ETFs nearly doubled year on year. The assets were valued at $981 million (Rs 54.63 billion) a year ago. ..."