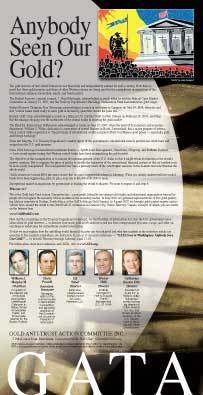 by James G Rickards:
"... Analysis should always be based on the best available evidence and not speculation. I have seen some evidence, gathered from military and Treasury officials, that the gold is where the government says it is. I have seen no evidence whatsoever that it is not. Based on this, I assume the gold is there. If I learn differently someday, I'll change my view, but until then I'll base my economic and monetary analyses on the fact that the United States is the proud owner of 8,133 metric tons.

"But what about the audit? What harm can there be in that if the gold is where the Treasury says it is?
"There are two powerful reasons not to do the audit even if the gold is in the vaults.
"The first has to do with the credibility of gold as a component of international reserves and monetary systems in general. Gold was officially demonetized by the International Monetary Fund in 1973 not long after President Nixon ended the convertibility of dollars into gold in 1971. Since then gold has been continually disparaged as a monetary asset, most recently in the remarks of Federal Reserve Chairman Ben Bernanke that the possession of gold by the United States was a mere "tradition." If that were so, why would the United States audit something so unimportant? An audit suggests that gold is somehow meaningful and deserving of respect. The official position is that gold is a legacy asset of no particular importance. In this context, refusing an audit makes sense. An audit would give gold too much credit and start to erode the official propaganda that gold is not a monetary asset. After all, no one audits the number of acorns in the national parks—they are too unimportant.
"Another reason has to do with not calling attention to a host of ancillary questions. Assume that the audit were conducted and everything was in good order, that the United States had the right number of ingots of 99.99 percent purity and everything was numbered and in its place. This would immediately lead to other questions: Is the gold leased? To whom? On what terms? ..."