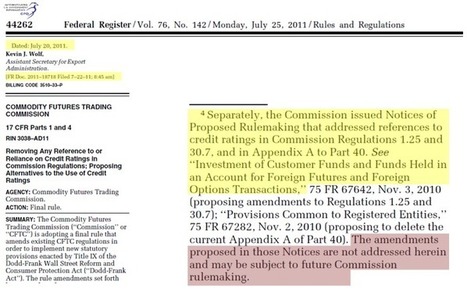 Submitted by EconomicPolicyJournal.com
"A new Senate hearing during "Money Smart Week"
"The MF Global circus continues, as only yesterday, the Senate Banking Committee announced it will hold a hearing next Tuesday, April 24, 2012, in which a few old and a few new faces will grace Congressional Chambers. We can only hope that some of the Committee members will pursue the panelists with the same zeal that certain members of the House Financial Services Oversight & Investigations Subcommittee did in their three hearings.
"According to a press release that arrived in our email box this morning, next week is Money Smart Week at the Chicago Fed. The awkward phrasing sure sounds smart. The National Futures Association, the CFTC and AARP will hold a seminar entitled "Avoiding Fraud is Your Best Money Strategy." No kidding. Tell that to Mr. Corzine and the MF Global customers. The always pithy CFTC Chairman Gensler had a few choice words as well: "When making important financial decisions, even simple actions like asking a few smart questions can help set people on the right course." Right...and where were your smart questions, Mr. Gensler, when you let the SEC steamroll the CFTC into accepting a bankruptcy and liquidation structure of MF Global and its broker unit such that the customers ended up on equal footing with creditors?
"Maybe the SEC's Director of the Division of Trading and Markets, Mr. Robert Cook, can shed some light at next week's Senate Banking Committee hearing on why he ordered a firm with 388 securities accounts and 38,000 futures accounts to be put into a SIPC liquidation, where there is no insurance fund for futures customers and where the liquidation Trustee has no clear right to assets in the parent company's Chapter 11 estate.
"And, if Mr. Gensler truly believes that the "CFTC exists to protect Americans in financial markets and to ensure the integrity of..."
{The MF Global farce continues}