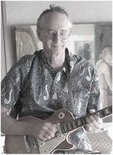 "What is fraud except creating "value" from nothing and passing it off as something?
"Frauds interlink and grow upon each other. Our debt-based money system serves as the fraud foundation. In our debt-based money system, debt must grow in order to create money.
"Therefore, there is no way to pay off aggregate debt with available money. More money must be lent into the system to make the payments for old debts. This causes overall debt to expand as new money for actual people (vs. banks) always arrives at interest and compounds exponentially. This process is called financialization..."